List of museums and attractions included in Vilnius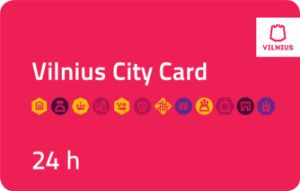 The Vilnius City Card is a city card that comes in 4 flavours: 24 or 72 hours with public transport ticket and 24 or 72 hours without public transport ticket. The Vilnius City Card offers free entry to museums, walking tours and discounts for bus tours, bike renting or for instance tickets to concerts and wellness services. The public transportation part of the card lets the holder of the Vilnius City Card travel freely on the public transportation network of Vilnius.
Vilnius City Card in Vilnius
Vilnius City Card is valid in 11 museums and attractions in Vilnius. These museums and attractions are displayed below.