Museums & attractions included with a discount in OKV Card in Schaerbeek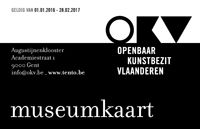 With the OKV-museumkaart (OKV Museum card) visitors could get free admission in around 150 Flemish and Brussels museums. Some museums also gave visitors with the OKV-museumkaart price reductions on exhibitions and catalogs. The new national Museum Pass of Belgium is the museumPASSmusées.
OKV Card in Schaerbeek
OKV Card is valid in 2 museums and attractions in Schaerbeek. These museums and attractions are displayed below. You can also view a list of museums in Belgium where OKV Card is valid.